The word "transparency" isused in business, politics and personal relationships to mean "the perceived quality of intentionally shared information from a sender, implying openness, communication and accountability," or so says the Oxford Dictionary.
But years ago, prior to the advent of laptops and digital projectors, transparencies were those clear acetate slides we'd put on overhead projectors, putting light behind so the content could be seen clearly.
Either use of the word may apply to cabaret performance. Singers may be more or less transparent with what they share with their audience about their lives. The songs they choose and the way they perform them illuminate the heart of the singer.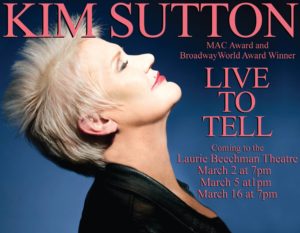 Kim Sutton
Tale to Tell: My Life, Madonna's Songs
Laurie Beechman Theater
Lennie Watts, Director
Steven Ray Watkins, Music Director
March 16, 2017
Kim Sutton's ambitious show, "Tale to Tell: My Life, Madonna's Songs" reflects the latter kind of transparency. It was less a traditional cabaret set and more of a rock ballet like "Movin' Out" or a jukebox musical like "Jersey Boys." Not a word of monologue was spoken, but through the songs Kim sought to communicate the trials and triumphs of her life.
She opened before a fiercely enthusiastic audience with a few measures of "Like a Prayer" followed by the title song, backed by a three-piece band. Three male singers and dancers took on backup harmonies and supporting characters in her life story, including family members, her fellow soldiers, her romantic interests and her team of physicians.
I know some of the details of (and I have her permission to disclose here) Kim's tough, impoverished childhood, an abusive parent, her devotion to her family and a life-threatening illness, the treatment for which was nearly as dire as the illness itself. Her physical and spiritual survival is a more harrowing tale than Madonna's songs can express, but Kim and company cover the full spectrum of Madonna's catalog, from playful to sexy to painful and everything in between.
Considering Kim's personal story, my favorites were the ones that allowed her to explore the darker sides. The best part of the show was the sequence that included "You'll See," "Mer Girl," "Promise to Try" and "I Remember." Kim is one of those rare, beautiful women who is as lovely on the inside as out, and she communicates worlds of truth through her deep blue eyes and honest voice.
There is good news for folks who tried to get tickets for Kim's sold-out run at the Laurie Beechman Theater: the show has been extended for future performances. Stay tuned for dates.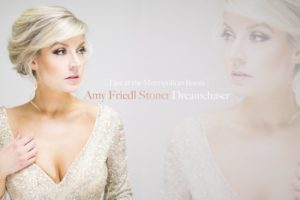 Amy Friedl Stoner
Dreamchaser
The Metropolitan Room
Lina Koutrakos, Director
Rick Jensen, Music Director
March 18, 2017
Speaking of beautiful, the gorgeous and perfectly coiffed Amy Friedl Stoner made her NYC debut with the aptly named show, "Dreamchaser." Her website reads, "Amy Friedl Stoner is a Cedar Rapids, Iowa based cabaret singer who specializes in Broadway, standards, and pop," which reminds me of the restaurant in my neighborhood where the sign promises specialties from Brazil, Greece and China. I was skeptical about Amy delivering across such an expanse, but brother, she served it up strong. Her voice is stunning. She smoothly transitioned from one genre to the next, expressing the defiance of "Some People" from Gypsy, the wistfulness of The Judds' "Dream Chaser" and the plaintive 10,000 Maniacs' "Dust Bowl," interwoven with charming stories that teased just a bit about the heart and soul of Amy.
Her narrative about being a mom who sings in musicals and cabaret shows in the Midwest (and now debuting in NYC) but finds peace in Iowa City seemed to conflict with the inner restlessness that looms large in her songs. The transparent truth that shines through is that she needs to do this. It's not a nice thing, it's THE thing.
There's more to the story. I look forward to hearing it when she returns.