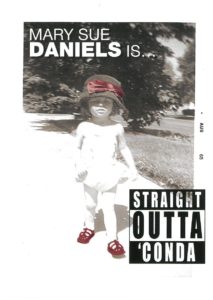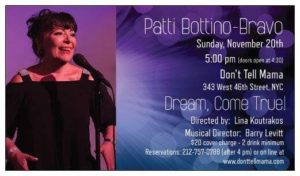 Patti Bottino-Bravo
"Dream, Come True!"
Don't Tell Mama
November 20, 2016
Mary Sue Daniels
"Straight 'Outa 'Conda"
Don't Tell Mama
October 9, 2016
One of the most interesting aspects of the cabaret medium is the width of its doorway and the breadth of its path. This was shown in two recent debut shows, Patti Bottino-Bravo's "Dream, Come True!" and Mary Sue Daniels' "Straight 'Outa 'Conda".
What the shows have in common is their director, Lina Koutrakos, their location, Don't Tell Mama, and their staging, including a piano, a music director and a microphone. Beyond that, they take quite different directions.
In the spirit of full disclosure, I acknowledge that I know both women and I'm crazy about them. But even if I'd never met them, I would have relished their performances.
Patti Bottino-Bravo's style and song choices reflected the influence of Marilyn Maye, her mentor and inspiration to return to singing after a 20-year gap. Bottino-Bravo has a commanding stage presence, flashing eyes and a lovely, confident voice that ranges from full-on belt to sultry smoke. She delivered a mix of well- and lesser-known songs and an autobiographical narrative about the pursuit of a meaningful career, love and happiness, including a return to an early passion, singing.
Among other personal revelations, she shared the funny, sweet story of meeting and marrying her nearly-non-English speaking husband. Considering the language barrier, she said of their early dating period, "Friends asked me, 'What do you two talk about?' A fair enough question, and I answered. 'We talk about how wonderful I am.'" Her version of having it all included earning a graduate degree in speech pathology and finding a wedding dress from a second-hand store that fit her like a custom-tailored glove. Speaking of which, her music director, Barry Levitt, provided beautiful arrangements that suited her perfectly. She sang from Broadway, Great American Songbook and pop including her music director's composition "Tough to Find Your Way," and her director's "One More Moment with You."
Mary Sue Daniels' show followed a less traditional route. She strode onto the stage, looked at her audience, folded her arms, grinned and said, "Well, well, well!" before launching into the hospitality mantra of the 1950's, "If I Knew You Were Coming I'd Have Baked a Cake," She took a Garrison Keillor-esque look at her adventurous childhood and adolescence in Anaconda, Montana, a copper mining town where, she said, "The taste of sulfur was always in the back of our throats. Our bodies were full of arsenic, but our hearts were pure." With that backdrop she introduced a fascinating assortment of relatives, friends, teachers and townsfolk and moments in time via songs that seemed written for them precisely by James Taylor, Jerry Lieber, Dar Williams, Ricki Lee Jones, Joni Mitchell and her music director Rick Jensen. A songwriter's singer, Daniels' fine voice was a vehicle to showcase the songs, not vice versa.
Her journey from Anaconda to New York revealed an egalitarian approach to working. "I worked as an actress and a waitress. I was a good one." It's clear that she took equal pride a
nd delight in both. Her unforgettable interpretation of Jensen's "Tonight, New York City" was proof that you can take the singer out of Anaconda but you can't take 'Conda out of the singer. And that's a very good thing.